About Door Controls USA
Customer service is not a catchphrase at Door Controls USA; it is ingrained in our DNA. Since 1995, Door Controls USA has been committed to providing our customers with the most comprehensive stock of replacement door parts in the industry. Our rigorous quality control process ensures that your replacement part meets or exceeds OEM specifications.
At Door Controls USA, our commitment to customer service is not limited to our extensive inventory. Our parts department is staffed with knowledgeable sales representatives from 7 a.m. to 5:30 p.m. CST, Monday through Friday, because we want you to be able to service your customer as quickly as possible. And for those times when your service technician needs a little help working through a challenging installation issue, our technical support personnel are available 24/7/365 to help guide them.
Available, reliable, economical and innovative - Door Controls USA is your one-stop-shop for all of your automatic and manual door replacement parts.

Check Us Out on an Episode of The World's Greatest!
117,368
Packages Shipped in 2021
169,651
Total Parts Produced 2021
Over 25 Years
Of Industry Experience
The Truck that started it all

Construction of 2 Story Building 56,000 Sq. FT

10th Annual Golf Tournament

Summer and Paxton purchase DCUSA

16th Annual Golf Tournament

DCUSA Wave Plates launched in 2020

17th Annual Golf Tournament
Our History
1995 - Door Controls established for wholesale of selling parts
- Door Controls creates the Quality Control Department
1996 - Reached $5 million in sales
- Started rebuilding automatic operators and controls
2003 - DC One first sold in Jewitt, TX
- First Annual Golf Tournament - employees only
2004 - Construction of new 2-story building 56,000 square feet
2005 - Low Places lodging facility built
2007 - $25 million in sales
2012 - $33 million in sales
2013 - 10th Annual Golf Tournament benefiting Texas Scottish Rite Hospital for Children
2016 - Founder, original owner, and CEO Don Gilchrist sells Door Controls USA to children Paxton Gilchrist and Summer Gilchrist-Haltom
2017 - Owners, Paxton Gilchrist and Summer Gilchrist-Haltom purchase T & D Machine Works, LLC
2018 - Door Controls USA develops Top Door Alarm Generation 2
- Finished construction on East building with 31,250 square feet
- North Carolina location started shipping automatic parts in addition to manual hardware
- 15th Annual Golf Tournament raises $33,605 for Texas Scottish Rite for Children
2019 - Opened West Coast distribution location in Reno, Nevada
- The Machine Shop added an Index G220 multi-axis turn-mill center machine with a high production bar feeder to lower machine cycle time
- 16th Annual Golf Tournament raises $35,000 for Texas Scottish Rite Hospital for Children
- 49.4 million in sales
2020 - DCUSA releases Top Door Alarm GEN 3 System
- DCUSA launches brand new E-Commerce website with a Technical Hub for Technicians
- $44 million in sales
- Due to Covid Pandemic DCUSA launches custom wave plates
- Remodel of the upstairs office adding new and improved training rooms, meeting spaces and working environments
2021 - DCUSA establishes a new Estimating Department with a dedicated team for Contract Hardware, Hollow Metal Doors, DC Slide Door Packages and Top Door Alarm product lines
- Brand new DCUSA mobile app is launched, designed for automatic door service technicians
- DCUSA acquires Quad Systems on September 30th in Corpus, Christi
- 17th Annual Golf Tournament raises $35,382 for Scottish Rite for Children
- $51.1 million in sales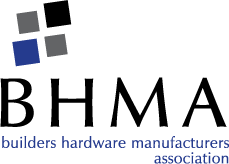 BHMA Member
The Builders Hardware Manufacturers Association (BHMA®) is the trade association for North American manufacturers of commercial builders' hardware. BHMA® is involved in standards, codes and life safety regulations and other activities that specifically impact builders' hardware performance standards for locks, closers, exit devices, and other builders' hardware. It the only organization accredited by the American National Standards Institute (ANSI) to develop and maintain builders' hardware performance standards.
Learn More

AAADM Association Member
The American Association of Automatic Door Manufacturers, a trade association of manufacturers of automatic pedestrian door systems, was founded in 1994 to promote safety in the manufacture and operation of automatic doors. The industry is dedicated to promoting consumer awareness as well as the education and certification of maintenance personnel.
Learn More